605 Global Way
Suite 107
Linthicum, MD 21090
CATEGORIES & HEADINGSdetails >>
AirTek is a leading supplier of air pollution control (APC) equipment including engineering, construction, and maintenance services. Founded in 1988, by John Roberts (JR), AirTek undertakes projects for a variety of APC equipment. We specialize in providing turnkey APC services. AirTek has worked on hundreds of projects to rebuild and upgrade the performance of electrostatic precipitators (ESPs) for a wide range of customers in the power generation, pulp and paper, petrochemical, rock products, and steel industries.

An electrostatic precipitator is a highly efficient particulate collection device that removes particulate matter from a gas stream (such as flue gas exiting a boiler) using the force of an electrostatic charge. The technology was developed in the early part of the twentieth century and has evolved to play a major role across a wide range of particulate collecting and control applications.
Electrostatic precipitators can be part of a process that recovers the product from the gas stream so it can be reused. Most precipitators however, are air pollution control devices which eliminate the emission of these fine dust particles, commonly referred to as ?smoke? into the environment.
AirTek also provides outage and maintenance services for fabric filters, scrubbers and SCR systems.
Vendor Showcase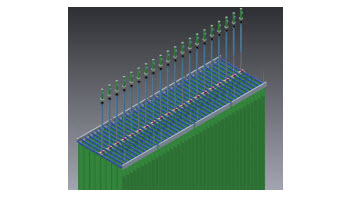 An electrostatic precipitator is a highly efficient particulate collection device that removes particulate matter from a gas stream using electrostatics. The technology was developed in the early part of the twentieth century and has evolved to play a major role across a wide range of particulate collecting and control applications.

Electrostatic precipitators can be part of a process that recovers the product from the gas stream so it can be reused. Most precipitators however, are air pollution control devices which eliminate the emission of these fine dust particles, commonly referred to as "smoke" into the environment. read more